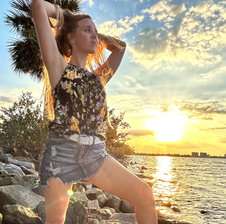 | | |
| --- | --- |
| 性别 | 女性 |
| 感兴趣 | 女性, 男性, 夫妻 |
| 年龄 | 34 |
| 身高 | 5' - 5'3" [150cm - 160cm] |
| 体重 | 100 - 120 磅 [45 - 55 公斤] |
| 头发 | 金发女 |
| 眼睛 | 蓝色 |
| 种族 | 白人/高加索人 |
| 语言 | 德语, 英语 |
| 家乡 | In a town near you |
| 阴毛 | 修整过的 |
| 胸围 | 小 |
| 屁股 | 中 |
🔥 About Me 🔥
Hello, darlings! I'mPinklipsskye6
9, your enchanting online companion. Welcome to my world of pleasure and fantasy. Let's embark on a journey where our desires intertwine and our wildest dreams come to life.
🌹 Who Am I? 🌹
I'm a fiery seductress with a passion for art, sensuality, and connecting on a profound level. With a hint of mystery and a dash of naughtiness, I'm your muse for unforgettable moments.

🎥 What I Offer 🎥
🌟 Live Shows: Dive into my realm of fantasies during my steamy live shows. From intimate conversations to electrifying performances, you'll find something to ignite your desires.

📸 Exclusive Content: Unlock my secret stash of exclusive photos and videos, revealing a side of me you won't find anywhere else.

💬 Private Chats: For those seeking a more personal connection, indulge in a private chat where we can explore your fantasies one-on-one.

🌈 Custom Experiences: Let's create a tailor-made experience that fulfills your every desire. Just ask, and I'll bring your fantasies to life.

🔞 18+ Only 🔞
Please note that my content is intended for adults only. Respect and consent are paramount in my room. Let'***eep it classy, respectful, and safe for everyone.

💌 Let's Connect 💌
Follow me for updates, special offers, and exclusive content:
📷 Instagram: Skye_time_me
🐦 Twitter: Skyetimeme

💕 Spoil Me 💕
Wish to show your appreciation? Consider sending tokens or gifts from my wishlist. Your generosity is always cherished.

🚫 No Hate, No Drama 🚫
My room is a haven of pleasure and respect. Hateful or disrespectful behavior will not be tolerated. Let'***eep the vibe positive and welcoming.

🔐 Privacy Matters 🔐
I respect your privacy, and discretion is of utmost importance. Our time together is our little secret.

💖 Let's Create Magic Together 💖
Join me,Pinklipsskye69, and let's make unforgettable memories. Together, we'll explore the depths of desire and the heights of pleasure. See you online, sweethearts!
Pinklipsskye69的业余剪辑

150 个代币
1:00

50 个代币
0:42

100 个代币
2:00

175 个代币
0:32

40 个代币
0:35

50 个代币
0:34

69 个代币
1:01

69 个代币
0:41

70 个代币
1:00

100 个代币
1:00

80 个代币
0:45